Product details
The spinach lolly's of Shrimps Forever is a healthy snack for all shrimps. The lollies are provided with a layer of feed that mainly exist out of spinach, mixed with small pieces of other vegetables. The shrimp's lolly's support the shrimps in growth and health. Besides that, the spinach is rich in silicates which support the molt of your shrimps. The lollies are made of 100% natural ingredients on a wooden stick.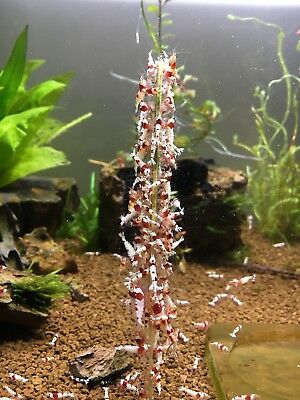 The shrimps love to gather all on the shrimp lolly. You can easily drop the sticks in your aquarium and wait until the shrimp finished the green part on the stick.
The spinach lollies are rich in minerals which make the total a good snack for your shrimps. These lolly's support health, color, breeding and molting in a natural way.
Ingredients
Spinach, vegetables
Dosage
Use this feed as supplementary shrimp feed. About 1 lolly for 50 shrimps. U can replace the lolly 2-3 times a week.
Content: 10 pieces (15 grams of feed)