The product that suits you
Why is it interesting for a pet shop to offer CeramicNature backgrounds, decorations, and water bowls for terrariums?
It is important to imitate the natural habitat of animals, and this is possible with our decorations and backgrounds. Animals need shelters just like in nature.
Pet shops sell different kinds of animals, which also have special decorations to match.
Each animal has its own needs, desert animals like the large caves and rainforest animals like the moist caves. Because there are several decorations suitable for each animal, you can easily rotate products, so that you can always offer something new.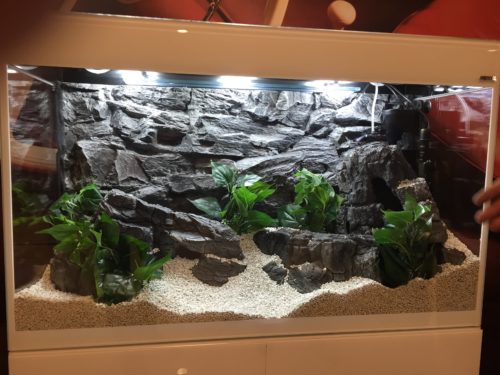 How can sales of these products be stimulated?
First of all, it is important to know what type of customers come into your shop. If you have many customers for tropical animals, it is smart to adjust your assortment accordingly and buy more
decorations that are suitable for tropical animals.
Also, keep changing products regularly. Make sure that 70% of your best-selling products are well stocked and make sure that the other 30% are well rotated. So there is always something new for the customer to choose from. That is why CeramicNature offers a wide range of decorations and backgrounds with more than 300 different products.
It is also very important to listen carefully to the customer. If the customer has specific wishes or ideas, try to think with them and look for a solution. For example, if the customer would like to have something that is not in stock, CeramicNature can send it via Dropshipping and if the product does not yet exist we can also try to develop it on request. Most ideas lead to fun projects.
The range of backgrounds, decorations and artificial plants, etc. is very extensive. On what basis can a pet shop compile a balanced range? Which products should definitely be included in the range?
That question is not easy to answer. For each shop, we look together at what assortment fits. Of course, we have a number of products ourselves such as pyramids, rocks, logs, turtle caves, catfish caves, and half-logs that actually sell well in all shops. In addition to this small selection, we look at each shop individually to see which products fit here. We do this in cooperation with the person responsible for that department.
From what materials are the backgrounds and decorative items mainly made? What are the properties of this material?
The background walls are mainly made of synthetic resin and this material has a great advantage that it is super strong, lasts a long time, and does not decay underwater.
The decorations are made of ceramic. Ceramic has the big advantage that it is colorfast, so if it gets dirty you can put it in the dishwasher. In addition, ceramic is porous, which means that it can easily be used as a moist cave or, in the case of rodents for example, as a warm cave.
I must explain the last one. If an animal gives off heat such as a hamster, it will be lost in a plastic shelter, but if you put the hamster in a ceramic shelter, the ceramic will absorb the heat and the hamster will be able to keep warm more quickly.
In addition, ceramic has a long-term life.
Which themes score particularly well among backgrounds and decoration articles?
This differs from shop to shop. In a terrarium shop, you will see that the desert walls sell well, but there are also many shops that sell the tropical themes very well. It sometimes depends on the area where the shop is located, but the most important thing is often what range of animals a shop has. If these are mostly tropical animals, you sell a lot of tropical decoration and backgrounds, if these are more desert animals, you sell more dessert decoration and backgrounds.
Sometimes you can't put your finger on why a certain decoration or back wall sells well in a certain shop; in our opinion, this is just the taste of the customer in question.
What are the points of attention when presenting these products in the pet shop?
It is important that the small decorations are at eye level, the shelves should be light and clearly arranged. By clearly classified, I mean that product types are together. You can put caves and logs next to each other just fine, but don't mix them up. The customer should be able to see at a glance what products are available and in what sizes. If the shelves are dark, it is not noticeable and the customer will walk past it more quickly.