Product details
Decorative terrarium backgrounds.
The CeramicNature Terrarium's thin back walls have a beautiful natural look. These are the ideal back walls for every terrarium. They have a polyester base with a hard top layer of special and unique mineral resins. This makes the top layer rock-hard and the back wall safe for animals, humans, and nature.
The Thin back walls are colored by hand using the airbrush technique. This means that no two back walls are identical. Each back wall is therefore unique in its own right.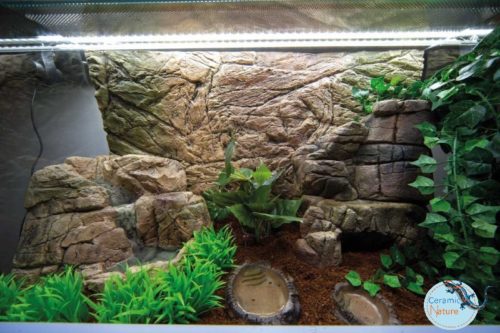 The decorative CeramicNature terrarium back walls are thin brown and are only 2-3cm deep (at the deepest point) and with their special structure enhances the perfect depth of the terrarium. The CeramicNature rear walls belong to the highest segment of terrarium rear walls and are of comparable quality to Back to Nature and RockZolid. The advantage of CeramicNature rear walls is that they are cheaper, thinner, and easier to install. The CeramicNature backgrounds do not need to be treated with Epoxy, so they can be placed in the aquarium immediately after receipt.
Editing the CeramicNature terrarium's thin back walls is very easy using a grinder, Dremel, or a saw. When sawing, it is important that the back wall lies flat on the front and that you saw horizontally over the back. The easiest way is to use a Dremel or a grinder.
Tip: Combine the CeramicNature backgrounds with the Rock, Stone, Root, or other modules for an even more realistic effect.
CeramicNature's products are durable and have a colorfast layer of very high quality. For this reason, they do not need a toxic epoxy layer to prevent discoloration.
The available dimensions are:
50×30 1 piece
60×40 1 piece
100×50 1 piece
120×50 1 section
120×60 1 part
Watch all instruction videos on our Youtube channel: CeramicNature Youtube channel
View the back walls here.
Available at more than 300 partners in Europe. See our partner page for a shop near you.